Custom Windsocks
Windsocks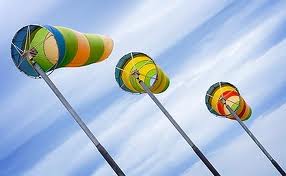 Windsocks were first used to determine the direction of wind. Now they also identify safety/ caution zones, and are use at airports, helicopter landing pads, oil rigs, cranes, mines & construction sites in stock colours or customized with your logo.
Advertising Windsocks
Advertising Windsocks do not require wind to stay open as the frame has a pole running on the inside of the windsock so your message is visible all the time.
Decorative Windsocks
Decorative Windsocks (photo on the right) are found on beach & ocean fronts, carnivals, international expos, trade shows, amusement parks & sporting events. Windsock Poles & Lighting kits also available.
North American Toll Free 1-888-819-7869